A Time-Sensitive Invitation For Ambitious & Highly-Driven Networkers Only:

Take Your Rightful Place Among Our
Industry's Next Superstars And Discover…
How To Become The Highest-Earning
& Most Respected Leader In Your
Company In Just 5 Simple Steps…
IMPORTANT: This Year's Event Has SOLD OUT…But, You Still Have A Chance
To Join Us From The Comfort Of Your Home. Read On. To Learn More…
If you're done struggling…
…and ready for everyone in your company to finally know your name…
…then you're on the right page at the right time.
Because this is your time-sensitive invitation to join us via Livestream for an intimate and exclusive 3-day workshop streaming to you LIVE from sunny, warm, Orlando, Florida…
You've Never Experienced An
Intimate Meeting-Of-The-Minds
Quite Like This…
Behind closed doors…
The world's most action-oriented networkers are coming together once more to discover what Top Earners are doing in 2014 to generate massive business growth.
And we'd like you to invite you to watch the entire event virtually today while you still can.
Future Top Earners Flew In From All
Four Corners Of The Globe…
Ebele and Chuma jumped on a 12 hour flight from Nigeria…
Slobodan from Serbia and Lee Mills from the UK flew a combined 20 hours so they wouldn't miss a thing.
Some Australian networkers even happily endured a day-long 22 hour flight all the way from down under!
Distance was no obstacle…
They HAD To Experience Their Own
Top Earner Transformation…
But, lucky for you, you won't have to travel. You can still join us LIVE for this event from the comfort of your own home!
…since this is the ONE AND ONLY event in the world where networking's next top earners come together for 3 days of elite-level strategy sharing.
This is NOT an event for someone just dipping their toes into network marketing. This is for people who are "all in" and fully committed…
Ready, with the correct guidance, to take their income to the moon.
Yes… if networking is your best and only real option to change your life… and you need the no-holds-barred nuts 'n' bolts to becoming a Top Earner...
…this event was designed for YOU!
Your Hosts & Lead Trainers:
Ray Higdon: How My Top Earner
Transformation Happened & How
You Can Experience Yours!
My story starts when I was in dire straits… just inches from personal bankruptcy.
A good friend introduced me to network marketing.
It was my way out from a life that had turned into a nightmare... and I couldn't wait to get started.
And I promptly failed with my first 11 (count 'em!) companies. 
Each Time I Failed, The Worse I Felt About Myself…
Although, deep down, under all the self-doubt, I had to believe I was destined for bigger things.
It's tough. You feel like you're trying so hard, doing what you're told to do…
Yet you never quite break though into the big time.
But then, for me, something changed.
No… I didn't sponsor a downline-building superstar… or fall into a new red-hot opportunity.
No outside factors changed whatsoever.
The change that took place… took place on the inside.
A Profound Change In My Mindset…
A Powerful Evolution In My Daily Actions...
That's what gave me the same Top Earner transformation I'd like you to  experience for yourself.
My own transformation put me on stage with Gary Vaynerchuk, Bill Walsh, Les Brown, Eric Worre, and many more household name speakers.
The little blog I started now averages a whopping 2 million or so hits a month.
I've won 11 paid vacations… even a BMW 7 Series worth over $100,000.
A product I launched did $850,000+ in sales…
And I reached my goal of becoming the #1 earner in my network marketing company.
I met the woman of my dreams (who lucky for you, might also know more about prospecting via social media than anyone on earth…) and even whisked her to Fiji for our honeymoon!
I'm not telling you any of this to brag… just to give you complete confidence that I know what it's like to journey from struggle to success.
That's why Jessica and I are so pumped to meet you in Orlando… because we're going to share everything you need to know to change your life too!
Jessica Higdon: Let Us Give You
An Urgent In-Person Update About
What's Working Now…

If you're worried this might be one of those "motivational" events that are all fluff… and tired-old "You Can Do It!" sermons…
…let me put your mind at ease.
We'll have LOTS of fun, we always do…
But this is a serious step-by-step training… a true Academy on how to make it to the highest earning peaks in this industry.
I should know...I created and launched a training program this year that did over $800k in sales! And this year, I plan to break down that launch for you…what worked…and how YOU can do the same in your business!
This isn't a "sales guru" event where everyone skims the surface but never goes deep!
Bring a stash of notepads and pens… because this is as deep as it gets!
You see, now more than ever… we live in an evolving world…
What Worked Last Year…
Doesn't Necessarily Work This Year…
As someone who used social media to build my personal networking business to Top Earner status... I have to adapt to constant changes, or my income will suffer.
That's why Ray and I are so excited to give you an URGENT UPDATE about what you can do today to see your business grow tomorrow…
For 3 memorable days… we'll pull out all the stops to take you to a whole new level in your business… and in your personal development.
Like Ray said… expect a complete Top Earner Transformation!
Before time runs out and every seat gets snatched up, take this chance to join us!
Special Guest – Kevin Harrington
from the hit show Shark Tank!
In 1984, Kevin produced one of the industry's first 30-minute infomercials. Since then, he has been involved with over 500 product launches that resulted in sales of over $4 billion worldwide with 20 products that reached individual sales of over $100 million.
In 2011, Kevin's company As Seen On TV, Inc. acquired the web property AsSeenonTV.com. AsSeenOnTV.com represents a highly trafficked catalog of direct response products with over two million customers, 700,000 email registrants and hundreds of thousands of unique visitors each month. The company is now publicly traded under the name As Seen On TV, Inc.
Due to his extensive resume, Kevin was selected as an investor "Shark" on the ABC television series Shark Tank. The show gives budding entrepreneurs the chance to pitch their products to a panel of acclaimed judges in hopes of turning their ideas into a successful business reality.
At Top Earner Academy, Kevin will share with you some of his best kept secrets to getting more customers, selling your products, and making money from your ideas.
Special Guest – Best Selling Author Russ Whitney
Entrepreneur, philanthropist, and bestselling author Russ Whitney is a recognized worldwide leader in the business, real estate investment, and financial training fields. A high school dropout, Whitney began investing in real estate at the age of 21 while working full-time in a slaughterhouse. By the age of 23, he had achieved financial independence and was able to quit his job to concentrate on real estate. He became one of America's youngest self-made millionaires at the age of 27. Russ' real estate company has generated over $700 million in sales. His many business achievements include founding and building a $250 million financial education company, one of the largest and fastest-growing publicly-traded companies of its type in the world.
Russ created the Inner Voice®, a unique program for personal, business and spiritual development. In his bestselling book, Inner Voice: Unlock Your Purpose and Passion, Whitney shares the truth about his humbling experiences and provides a step-by-step guide for learning and applying Inner Voice principles and strategies.
Don't Miss The Only Event On Earth, Solely
Dedicated To Helping Networkers Become
The Top Earner In Their Company…
Sorry you missed the event this year. Recordings will be made available soon!
We've hand-picked a select group of Top Earner trainers… ready to coach you up in the Top Earner actions that will take you to the very top.
Forget "theory" or untested "book knowledge"…
You're only going to get the simple skinny on what works in the real world…
Meet Your Elite Brain-Trust Of Top Earner Coaches…
Mark Hoverson: Proof You Can
Start From Behind The Eight Ball… And
Still Become A Top Earner…
In 2006, Mark Hoverson and his wife Shannon qualified for welfare.
Frustrated, Mark splashed out on a $250 used computer and started an online business from his kitchen table.
Within 5 years, he'd generated over $10,000,000 in revenue online.
Now Mark, Shannon and their four kids, Isaac, Grace, Rush, and Micah live in North Dakota in the summers, and Arizona in the winters.
Becoming a top earner from such humble beginnings requires a success mindset few have mastered.
At T.E.A.L Mark is going to share the invaluable Top Earner mindset hacks that have freed him to create such sizeable wealth in no time flat.
Vince Reed: Human "Lead Gen" Machine!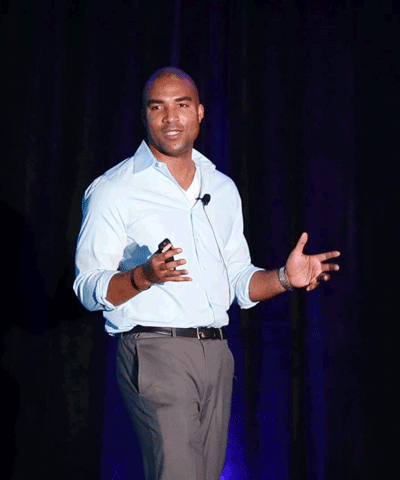 As he says himself, Vince Reed stumbled onto the internet in 2007, "barely knowing how to even send an attachment on an email."
After almost losing everything during the mortgage meltdown, Vince threw himself into learning the in's-and-outs of lead generation.
He's gone on to build 2 large networking companies… earning multiple six-figures per month… and has been full-time in the home business industry since 2008.
As founder of My Internet Traffic System, Vince is going to share innovative strategies that gift you targeted high-quality leads…
…and how to position yourself to make money whether a person joins your business or not...
PLUS…  How YOU can generate TEN TARGETED leads BEFORE you even leave the event!
Straight-From-The-Trenches…
Step-by-Step Insights… To Lift
Your Income Into The Stratosphere…
Lisa Grossman: The Dame Of Duplication!
Simply put: Lisa Grossman builds hugely productive, LOYAL and tight-knit networking teams.
We've asked this multi-million dollar earner to share her team-building and duplication secrets with you inside this closed-door event.
You'll want your notepads at the ready…
…because this is how your own Top Earner actions will be duplicated and leveraged…
…so they show up in bigger and bigger checks!
Cesar L. Rodriguez: Objection Slayer!
13 years into his network marketing career… Cesar Rodriguez hasn't met an objection he can't crush.
Cesar hit the top level of his company… and earned his first million by age 29!
Today, he's a one the most skilled prospectors, recruiters, and closers in the direct sales industry.
At Top Earner Academy Live, Cesar's going to share his best Power Recruiting tactics for closing prospects immediately… without fear, anxiety or apprehension.
Plus… he'll share his Cold Market Prospecting Blueprints… and all his tried 'n' tested secrets for obliterating objections.
If prospecting is still a struggle for you… then this session could be the highlight of an amazing few days.
Here's What Last Year's Attendee's Had To Say:
Discover The 5 Simple Steps To
Becoming Your Company's Next
Superstar Earner…
1) Top Earner Mindset:
2014 is the year of going full-steam after BIG SCARY GOALS!
To get personal for a minute, we've set ourselves some goals this year that are stretching us to the absolute limit…
But we know leaving our comfort zone is the only way to grow!
That's why this can be THE EVENT that changes your entire life…
Because we outright refuse to let you play small.
The only way to reach Top Earner status is to embrace big goals that make the hair on the back of your neck stand on end!
Of course, to make it up the mountain top, everyone needs a helping hand. We've personally invested more than six-figures in mentors over the years.
They help us "dial in" an unbreakable success mindset.
And at T.E.A.L… we're going to give YOU that same mental edge.
The mental edge that separates a successful Top Earner from networkers who struggle to sponsor anyone.
It's why you'll leave this event unstoppable…
Fully capable and confident of claiming the overdue success you deserve.
2) Top Earner Lead Generation Skills:
Social media has opened up an entire world of new prospects to you.
But some of what worked like gangbusters last year… is falling flat this year!
So we're going to clue you in to what's working now to get fresh hot leads.
You'll get the scoop on how to turn Facebook into a high-quality lead-gen machine…
And how to quickly and successfully widen out your fishing net into Twitter, Pinterest and other paid advertising platforms.
So you've always got an abundance of new leads.
And as the owner of one of the most visited blogs in the world, Ray is uniquely qualified to update on some of the newest changes in blogging.
He'll share what to focus on for 2014… and what's old news that doesn't work anymore.
Any networking business lives and dies based on lead generation.
So our mission in these 3 days is to arm you with the step-by-step direction you need to get you all the leads you can handle!
3) Top Earner Prospecting & Recruiting Skills:
Prospecting is where the rubber meets the road… and it's where most people experience the most stress and struggle.
So we'll share exactly… word-for-word… what's been working for us to build our businesses…
Let us take ALL the stress off your shoulders about prospecting!
At T.E.A.L we're going to teach you to how carry yourself with unbreakable Top Earner posture at all times.
So you're overcoming objections from a position of utter strength and sureness… and you can teach your growing team to do the same… 
We'll also put you in the know about how to go back in a stress-free way & prospect a "burned out" warm market…
PLUS… how to build fast and leverage your time by presenting your opportunity to small groups.
4) Top Earner Team Building & Duplication:
We'll share what we've done since last year's event to train and inspire our team members to shift their businesses into high gear.
Specifically, how we've used special kinds of contests, mastermind events and "swag stores" to light a fire under people who need an extra push.
ALSO…
You will learn how to manage and motivate your team like a true Top Earner…  
So you're always a role model…
Looked up to as a positive and constructive business-building force who INSPIRES everyone you meet!
5) Top Earner Systems:
When you rely on systems to manage your time, money and business… small setbacks don't bother you… life is more FUN…
…and you sleep like a baby!
We'll share the precise systems that help us manage our business without stress or overwhelm.
This is critical for anyone looking to becoming a Top Earner who has children… or who is working a part-time or full-time job in addition to their networking business.
More Awesome Testimonials!
Please Be Warned: This Livestream Event
Is NOT A Good Fit For Everyone!
If you're a networker who is A-Okay to just pocket a supplementary income from your efforts… this is NOT for you.
Look out over our training room and all you see are no-nonsense high-achievers… who are either full-time already… or hungry to go full-time in no time!
A supplementary income is an admirable starting goal. However, people don't attend this unique event just to put a few hundred extra bucks a month in their pocket.
Networkers like you attend this event virtually this is the ONLY event dedicated exclusively to top-tier training on how to achieve Top Earner status.
Got the iron-will inside you to succeed?
Then no matter if you're a veteran networker or a complete beginner… this event was created for you!
If you're fine to sit at the back at the room at company events applauding other people for breaking new income barriers… this is NOT for you.
This is an event for leaders… and future leaders ONLY. Those ready right now to step up to new levels of income and recognition within their companies…
…and who proudly aspire to reach the absolute summit!
So if you're done being in the back row, and you want to finally feel the rush of receiving your own standing ovations… take this chance to join us!
If you're happy to rest your family's financial future on the long odds that you will sponsor a superstar into your downline… this is NOT for you.
Top Earner Academy is for networkers who are that superstar!
Not someone who waits in vain for a knight on a white horse to ride in and build their fortune for them.
This is about getting you from wherever you are now… to Top Earner status in the shortest time possible.
There's no time to sit around with fingers crossed, hoping to win the prospecting lotto… let's be pro-active and increase your income now.
If you love to endlessly collect information… but rarely act on it… this is NOT for you.
Prepare for your mind to be blown by this 3-day extravaganza of "knowledge bombs" being dropped by the brightest, most plugged-in minds in networking today.
From the comfort of your own home… your mind will be calm and focused… your determination will be higher than ever… and it'll be time to take massive action!
This event is ONLY for the person ready to turn the information we'll share into EPIC transformation… not into notes in a junk draw!
You must be ready to stop thinking about embracing action… and start actually taking these 5 simple steps… one after the next… until they bring you to the mountain top!
Yes… change can be challenging at first… but it's the only way to enjoy the respect and rewards that come with Top Earner status.
This Exclusive Top Earner Leadership Training
Will Happen With Or Without You…
Great Reviews From Last Years Attendees!
Sorry you missed the event this year. Recordings will be made available soon!
Bring Your Ambition & Determination…
Leave As An Inspired Leader…
…Armed With The Complete
Top Earner Blueprint You Need To
Make All Your Dreams Come True…
You can wait for someone else to build your business… but it's likely going to be a long wait.
And while you spin your wheels…
The go-getters will be setting the ultimate example to every new recruit they sponsor.
It's hard to tell other people to go out and make things happen… when you're not committed enough to secure yourself the top networking training available on the planet.
Imagine what it's like to lead a team from a position of absolute, unquestioned strength and respect…
You effortlessly attract the right prospects to you…
You smoothly overcome objections that trip others up…
You are the leader everyone else is waiting for…
The leader your company needs…
The guiding light…
The architect of a built-to-last business that's the envy of everyone.
But fact is…
No-one's Gonna Give You
Top Earner Status…
You Have To Go Get It!
Here's How Your Ultimate
Livestream Experience Will Work…
You Can Experience The Entire Event
Virtually…So You Don't Miss A Thing!
Claim full access while you still can to the Livestream broadcast of this one-of-a-kind event.
From the comfort of your couch or kitchen table… via your iPad or laptop… experience the life-altering impact of Top Earner training.
By claiming Livestream access now you guarantee you are not in the dark about how to become a Top Earner in 2014 and beyond…
Instead… you are setting the stage for an amazing year of achievements ahead… because you're in the loop about what's working right now for top earners seeing their incomes explode.
Securing Livestream access couldn't be easier or more affordable.
Just select from our two packages below … then look forward to soaking in the most transformative 3 days of training you've ever experienced…
Sorry you missed the event this year. Recordings will be made available soon!
Are You A Top Earner
Or A Top Excuse Maker?
Ultimately, that's the choice each of us face…
Do we stay where we are… content to knowingly live below our potential…
…forced to explain to ourselves and those who rely on us, why we've decided to join the masses who "settle for less"…
Or do we look deep into ourselves… feel our inner-strength rising up inside us… and reach up for more…
Knowing we haven't even scratched the surface of what's truly possible.
If YOU choose to reject excuses and reach for more…
The time is now.
Join us as we stream Live from Orlando.
Let's do this…
Excited to see you in person very soon!
Ray & Jessica Higdon
P.S. If you're looking for another "rah rah" event where the motivational effects fade away on the flight home… this is not the event for you.
However, IF you want to leave with…
…your mind on fire with all the new Top Earner strategies we shared with you…
…hope exploding in your heart at everything that's become possible for you and your family…
Because you just hung virtually "shoulder-to-shoulder" with an elite brain-trust of the sharpest networking minds on the planet… who gave you the exact practical steps you need to dominate your company's leaderboard…
…then don't wait and let someone less deserving claim your spot… secure your Livestream seat now!
Thank You Ray & Jessica, I'll See You via Livestream!
P.P.S. Last year was history in the making.  Nothing like Top Earner Academy had ever been attempted before. The response knocked our socks off!
Livestream seats sold out completely in just 2 weeks!  
So many people wrote us last year, disappointed at being left out in the cold. Don't let that happen to you.
Take this opportunity. Your Top Earner transformation is just a couple clicks away, waiting for you to step up and grab it.
Let's share these very special 3 days together… we'd absolutely love to help YOU change your life!
Ray & Jessica, I'm Locking Down My Seat To Attend Virtually Now While I Still Can!
(NOTE: As undoubtedly special and transformative as this event is, it is demanding and intensely time-consuming to put on and host. Consequently, we may not hold it again next year. This could legitimately be your last chance to get the Top Earner training you need, so please, don't get locked out. Claim your seat right now…)