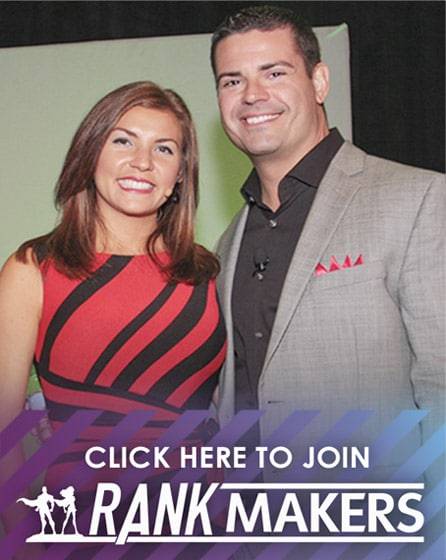 Rank Makers is a "secret tribe" of sorts where network marketing entrepreneurs, like yourself, can learn and grow WITHOUT feeling discouraged or "put down" by so-called-leaders and "trainers" who just don't understand us. This group is a SAFE place to learn, grow, and implement "field-tested" and proven social media and marketing strategies to grow your network marketing business.
Inside this group, you'll discover a bustling community of some of the most inspiring and uplifting entrepreneurs on the planet. Rank Makers help and support each other, no matter what company they're in. It's in our DNA. We use a special "closed Facebook" group as our primary channel for delivering you instant trainings, insights, and updates.
Our CORE mission and purpose is to help YOU and your team grow, thrive, and rank advance. You'll find unique & fun opportunities, limited-time competitions, and training sessions to help you in your quest to hit that next rank. And when you do, you can BET that we are going to celebrate. Because, in Rank Makers, we celebrate your wins. When you Rank Advance, or help another teammate rank advance, we'll be among the first to recognize, celebrate, and cheer for you. After all, this is exactly what being a Rank Maker is all about.
I didn't think it could really come true … still feel like being in a dream I finally rank advanced – now Business for the first time is getting really interesting.
Thank you s0000 much everybody in here for your inspiration and knowledge you all share.
Eila Micaela
Hamburg, Germany
Since joining Rank Makers, it has gotten me so much out of my comfort zone.
I have prospected 4 times as many as before. And the personal development has really helped. I find myself reading and listening to audio daily where in the past it was maybe weekly. I am loving Rank Makers it is so motivating for me.
Rhonda Clark
Entrepreneur
Since joining Rank Makers I have achieved the next rank in my new company.
I have helped 4 new customers get started. I have recruited a new team member. My confidence and posture are at an all time high. And also I've been prospecting and connecting with double the amount of people I was before. At least 5 a day.

Sharon Johnson
Entrepreneur
Rank Makers has allowed me to help 3 significant rank up on our team. Also have been able to increase those interested in what we are doing by at least 10X. Results have increased substantially due using the right approach that is not pressure filled. Since joining have reached out to over 300 people and have around half of them actively talking about being customers or joining our team. Personally, going through a massive shift in life to pursuing this awesome professional full time – it did not come the way I expected. It did come in a way though that Rank Makers is going to make achieving my goals much more efficient and duplicatable for others.

Chris Colt
Entrepreneur
I almost have no words right now. I just reached out to 5 women who I barely know and used the scripts I learned in here. 3 out of the 5 want more information. I'm blown away. I have spent $1000's on trainings and personal development over the years and I've been in here for 2 weeks and have gained more customers and now interest than I've ever experienced before.
I want to cry because of how grateful I am for the teaching in here and this community who inspires me to step out of my comfort zone and really push to reach my goals. Thank you all!

Candice Donaldson
Personal Development Coach
I have prospected more people in the past month than I have in the past 6 months.
Through Rank Makers, I was able to take a step out of my own company culture and gain new insight, verbiage and action steps.
I have fallen in love with my business again and it is 100% thanks to Ray and Rank Makers.

Amanda Ready
Entrepreneur
WHO IS RAY …
Ray Higdon is a best-selling author, coach, high-energy speaker, and philanthropist. Going from foreclosure to multimillion-dollar success in a few short years, Ray's journey to excellence has been fueled with an unrelenting passion for teaching people how to find their voice and understand their worth.
Ray's latest best-selling book, TIME MONEY FREEDOM, coauthored with his wife Jessica, (Hay House Publishing 2020) is Ray and Jess' guide to creating the life you've always dreamed of, including very specific action steps to get you there. The Higdon Group reality show Play to Win (Season 2) was released in October 2020.
A top keynote speaker, Ray has shared the stage with world renowned thought leaders, including Tony Robbins, Rachel Hollis, Les Brown, Brendon Burchard, Robert Kiyosaki, Bob Proctor, Gary Vaynerchuk, Grant Cardone, Magic Johnson and many more.
As a philanthropist, Ray has helped raise over $600,000 for March of Dimes and Adaptive Ops, and he is currently working on a program to help kids in foster care.
Ray is founder and CEO of Higdon Group, voted one of Inc. 5000's fastest growing companies in America, an award-winning leader in the sales training and coaching arena. He resides in Florida with his wife and four children.

LISA GROSSMAN
Network Marketer

"I have had the pleasure of knowing Ray Higdon as a colleague, a close friend and a mentor. He lives by a very simple credo — Bring as much value to as many people as you can everyday … and never stop learning so that you can Increase the value that you bring. One only has to look at his enormous body of work to realize how successfully he lives his philosophy."

KATHLEEN DEGGELMAN
Network Marketing Leader

"With Ray and Jessica Higdon, I didn't just find one mentor but two. Ray and Jessica have helped me to become a better network marketer, a better person. My favorite thing they have taught me is to provide value on a daily basis. My team has benefited tremendously because of our relationship too because my team training system is where it is today because of Ray and Jessica."
Business Growth Mindset Are you attracting the correct people into your business? Today Staci and Nicole talk about business growth mindset and how to attract more people to your business. If you want to see the full training click HERE or the image below… A Mindset...